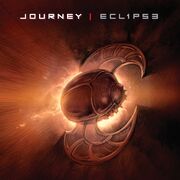 Eclipse is the 14th studio album by Journey. The album was released in the United States and Canada on 24 May 2011, on 27 May 2011 in Japan, in the United Kingdom on 30 May 2011, and internationally on 3 June 2011. The album sold 21,400 copies in the United States in it's debut week, reaching No. 13 on the US Billboard 200 chart.
The album was not well-received by critics and fans. Jonathan Cain commented saying "we'd had this concept in mind from the get go. We've got the ballads we can play all day long. If people want to hear ballads, they can certainly find them on other records."
Ad blocker interference detected!
Wikia is a free-to-use site that makes money from advertising. We have a modified experience for viewers using ad blockers

Wikia is not accessible if you've made further modifications. Remove the custom ad blocker rule(s) and the page will load as expected.